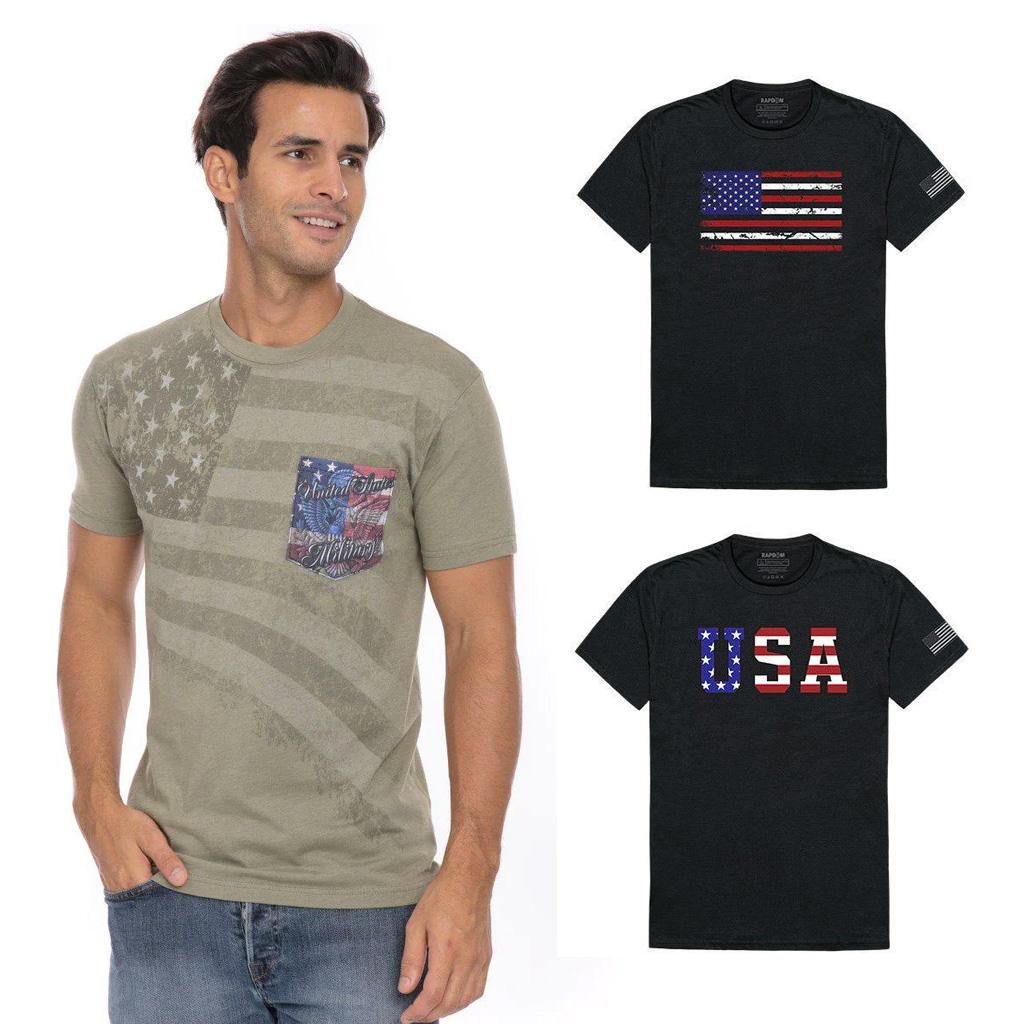 Apparel
We offer men's and women's t-shirts, sweatshirts, university apparel, shorts, and lots more. Themes include the 2nd Amendment, Firefighter, Fishing, Police & Law Enforcement, Made in the USA, Americana, Collegiate, Military, First Responders, and many others!
Showing 1 - 24 of 690 products
Affordable Apparel
You can find thousands of outfit combinations at ServetheFlag.com, from military wear to hunting clothes and everything in between! We have inexpensive, fashionable apparel for every type of U.S citizen - you'll be sure to find your perfect look here with ease.
We have an extensive line of t-shirts, long sleeves, sweatshirts, and cover-ups with the best designs, including officially licensed, collegiate, American patriotism, gear for: the U.S. Military, First Responders, Firefighters, EMS, Police, Law Enforcement, Hunters, Fishermen, and lots more.
Our clothes come exclusively from dedicated manufacturers, so our customers know they're getting quality products at excellent prices! We offer spectacular brands like W Republic Apparel, Serve the Flag, Rapid Dominance, RapDom, Open Mind, LA Imprints, Fun2Wear, Erazor Bits, Decky, Cuglog, and Casaba.
Totally Trendy Shirts
You'll love our collection of long sleeve and short sleeve t-shirts! We have high-definition, limited edition shirts that are printed in the USA and made with 100% pre-shrunk cotton. You can find your size from Small all the way up to 5XL.
The shirts we offer are perfect for any occasion and will match whatever style you're going for. Whether it be university logos, military flags, 2nd Amendment slogans, or just generic patriotic designs - we have something that suits every taste! Our vibrant colors make our tee's stand out as well as the brilliant quality.
Try our best-sellers: Guy Fawkes Anonymous Mask We the People See the Truth Black T-shirt Tee Unisex and 2nd Amendment I Am Your Huckleberry Premium Long Sleeves Shirt.
Super Soft Sweatshirts
When you wear our comfortable collection of hooded sweatshirts, you will feel the ultimate quality of a 50/50 pre-shrunk blend. Each hoodie is machine washable and printed in the USA. They are available in adult sizes: Small, Medium, Large, X-Large, XX-Large, XXX-Large, 4XL, and 5XL.
There are designs ranging from EMS, Law enforcement, Poker, Fishing, Hunting, Military—everyone needs to see our huge collection of patriotic hooded sweatshirts! A best-seller to check out is our Patriotic BlackFish Premium Fishing Hoodie Sweatshirt.
We also have W Republic university and college sweatshirts with plenty of schools to choose from. Perfect as gifts for Students, Graduates, Alumni, Colleagues, Faculty Members, Professors, Family, Classmates, and Athletes! The most popular university pullover is the NCAA Brown University Hoodie Sweatshirt Game Day Fleece Pullover Heather Grey.
Trendy Oversized Cover-Ups
Cover-ups give a new definition to a chic summer outfit. Women adore our cover-ups from LA Imprints because they are oversized and made with a super comfortable 100% pre-shrunk cotton fabric.
LA Imprint's Fun2Wear collection of cover-ups have quirky prints that make you the life of the party! Women love wearing our USA Flag Sarong Cotton Cover-Up for Women Beach Summer Swimwear Bikini Maternity Dress Plus Size T-Shirts Made in the USA.
It's the perfect outfit or gift for bridal parties, bachelorettes, bachelor parties, baby showers, sleepovers, pool or beach days, barbeques, and other fun events!
Wholesale Bulk Lot Options
When you purchase in bulk, you are doing an immense favor to your wallet! Serve the Flag's wholesale lot options are a great way to check off your gift shopping list. It's also ideal for large groups like families, organizations, companies, businesses, universities, employees, faculty, colleges, schools, daycares, church groups, sports teams, and more.
Explore our endless selection today!
Gifted Fashion
Buy trendy apparel that is officially licensed, patriotic, collegiate, or military-friendly for Military members, Veterans, Law enforcement, First responders, Dad, Mom, Boyfriend, Girlfriend, Son, Daughter, Kids, Employees, Grandpa, Grandma, Neighbors, and Friends!
Our men's and women's apparel is the perfect present for Christmas, Birthdays, Father's Day, Mother's Day, Veterans Day, Retirement, Graduation, Anniversaries, Xmas, Thanksgiving, 4th of July, Independence Day, Memorial Day, and lots of other holidays!
Read more about Apparel